We use affiliate links. If you buy something through the links on this page, we may earn a commission at no cost to you. Learn more.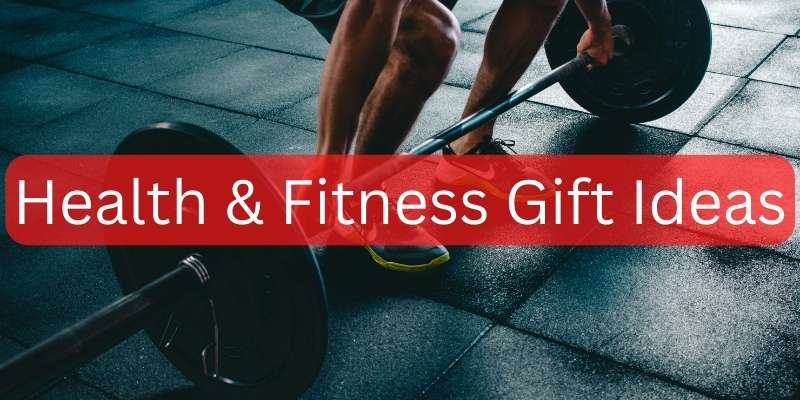 ARTICLE – I'm sure you have at least one person on your gift buying list that is serious about their health and fitness. These gift ideas are for them!
LesMills SMARTBAR weight set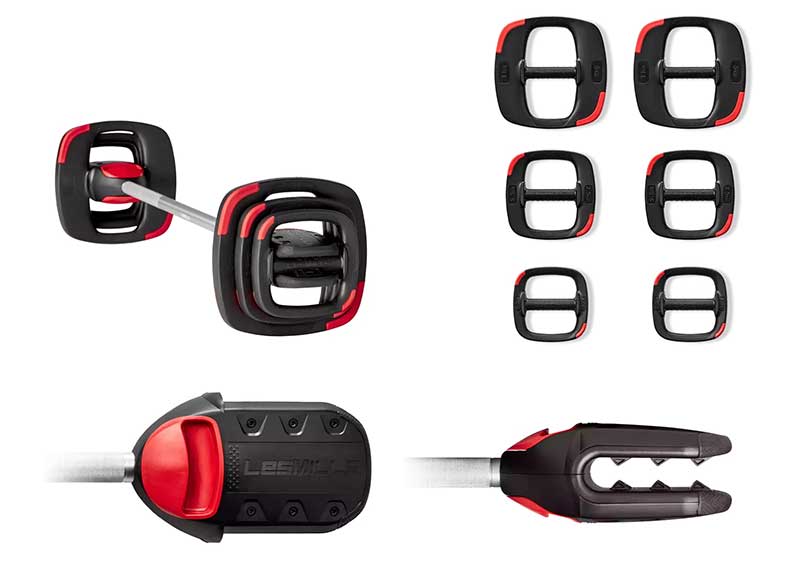 The SMARTBAR weight set from LesMills is an exciting new take on fitness equipment that makes it easier than ever to make your workouts faster and more efficient. This high-quality home gym equipment is designed to make it much easier to switch out weight plates with almost zero effort. Forget about hard-to-manage clips, the SMARTBAR plates snap into the gator ends securely and can then be released just as easily without any separate parts to drop or lose. The gator ends also rotate while you're lifting to make your workouts smoother and with less strain on your wrists. This set comes with 3 pairs of cast iron core plates (2.2, 5.5, and 11lb) that can even be used as hand weights for a full-body workout because they have built-in grips in the center and edges. The square shape of the plates also means that they won't roll away when they are clipped to the barbell. I think this set is awesome and have been using it regularly for my own workouts. It's an extremely well-made set and I love how easy it is to switch out the plates.
Price: $479.99
Where to buy: Lesmills and Amazon
Walk-i-Task treadmill desk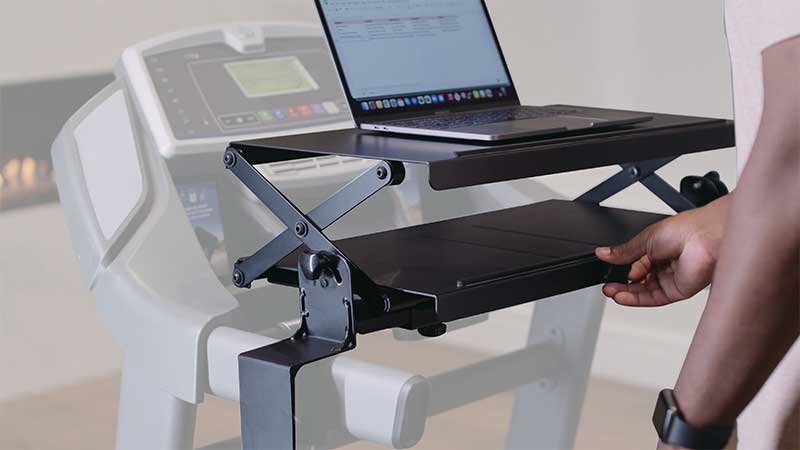 WALK-i-TASK is the perfect gift to help those who are looking to incinerate calories by moving their body while working from home. WALK-i-TASK is a height-adjustable desk that easily attaches to your home treadmill. This treadmill desk attachment provides a convenient way to eliminate sedentary lifestyles and get steps in while on boring Zoom calls, streaming TV shows, or even reading.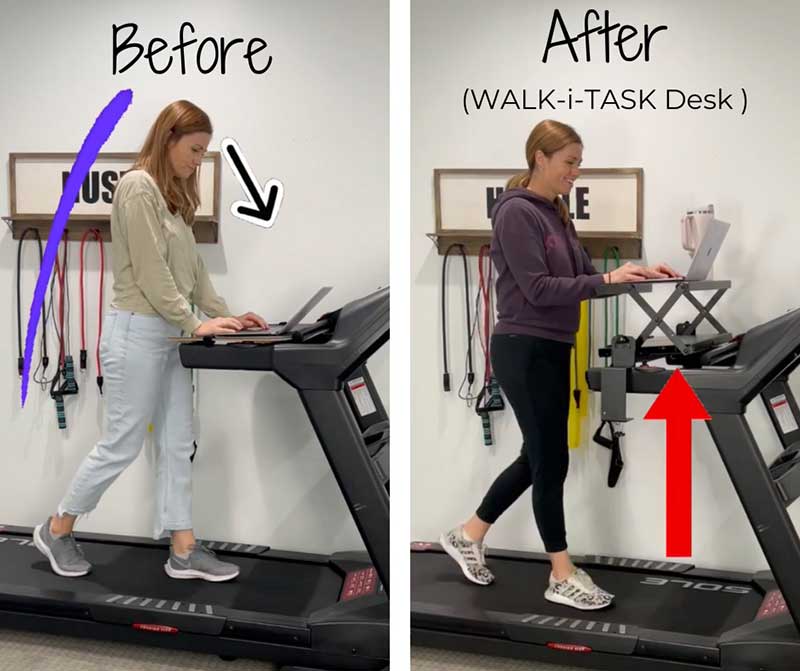 If your loved one values their health and wellness, WALK-i-TASK is the perfect solution. Key product features include:
Height Adjustable For Optimal Comfort
Attaches & Detaches To Transition From Walking to Running
Fits Most Treadmill Brands & Models (including NordicTrack, Sole etc)
Strong & Durable Workspace (top and bottom platform)
No Assembly Required
Read: Customer reviews
Original Price: $239.99
Discounted Price: $189.99 ( Save $50 when you use the code: GADGETEER50 )
Where To Buy: walkitask.com and Etsy
California Cowboy Wagyu fleece jogger sweatpants and shirts
No, these fleece sweats are not made out of meat! But boy oh boy are they soft. You'll want to sleep in them just as much as you'll want to work out in them. These sweatpants and shirts are proudly made in the USA and feature a blend of 94% bamboo and 6% spandex. The pants and shirts are unisex and feature cuffs that won't wear out like cheap sweats always seem to do. Available in Heather Grey, Pacific Blue, and Burgundy, they are available in sizes from XS up to XL. But wait, there's more! Both the sweatpants and shirts have some extra surprises. The pants have two large slash pockets along with a hidden zippered side seam pocket, a card pocket, and a pen pocket. The Unisex Wagyu fleece sweatshirt also comes with a pocket at the back.
Price: $108.00 (sweatshirt), $128.00 sweatpants
Where to buy: California Cowboy
Ecozy Sunrise Alarm Clock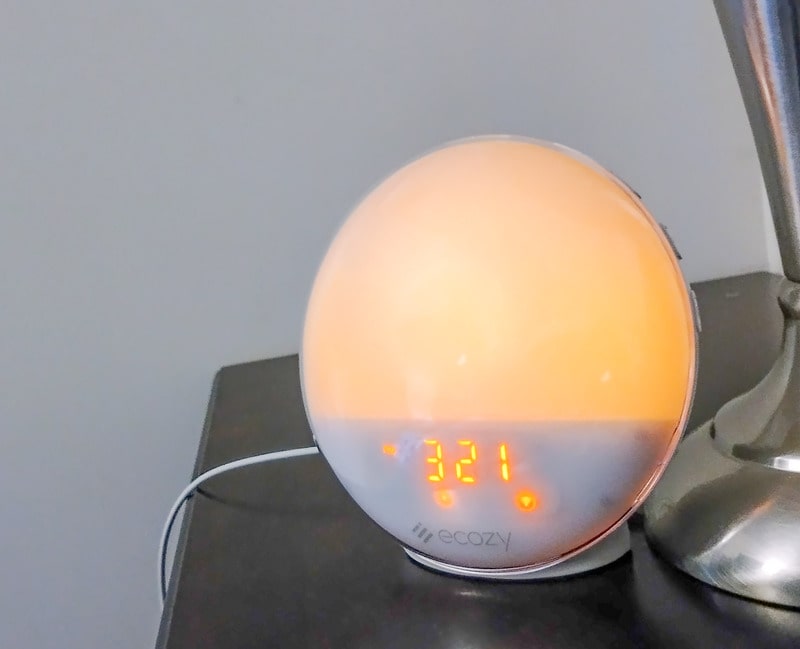 The Ecozy E80S app-linked clock radio simulates the rising or setting sun and is a perfect gift for the person who needs a little bit more motivation to get up in the morning. The clock has a host of other features to provide a tailored wake-up experience. The Ecozy smart wake-up light is an FM clock radio that features a multicolor and adjustable brightness lamp to simulate the rising or setting sun. The lamp can be used with up to 4 different alarms. Each alarm can be set with just using the lamp, in combination with 7 sounds, or with a station selected from the radio. The alarm sound can be set to play in 16 volume increments, from very soft to wake the dead. The brightness of the lamp is also adjustable in 20 increments, and the lamp can be set to start glowing from 10 minutes to an hour before the alarm sounds in 10 minute increments. The snooze feature is adjustable from 8 minutes to 15 minutes and can be set to turn everything off or just the sound.  When not using the lamp to wake up it can be used to add atmosphere to your room by displaying up to 8 colors or a color changing mode. The Ecozy smart wake-up light can also play FM stations from 76 to 108 MHz, and self programs good reception into its memory. Before bed, the lamp can simulate a setting sun and gradually lower the volume of an accompanying sound or radio station from 10 minutes to 2 hours. The hidden gem of the Ecozy E80S  clock radio is that it is app-linked. The EcozyHome app allows a mobile device to act as the interface for choosing all of the settings for setting up the device. The Wi-Fi interface also allows the clock to set itself and the accompanying Alexa skill and Google Assistant skills allows turning on and off the light, the radio, each of the alarms or even enabling the snooze.
Price: $33.99 Save an additional 10% off with coupon code: ATRFE2UW
End Date 11/28/2022 11:59 PM PST
Where to buy: Amazon
AEAC Fitness Tracking Smartwatch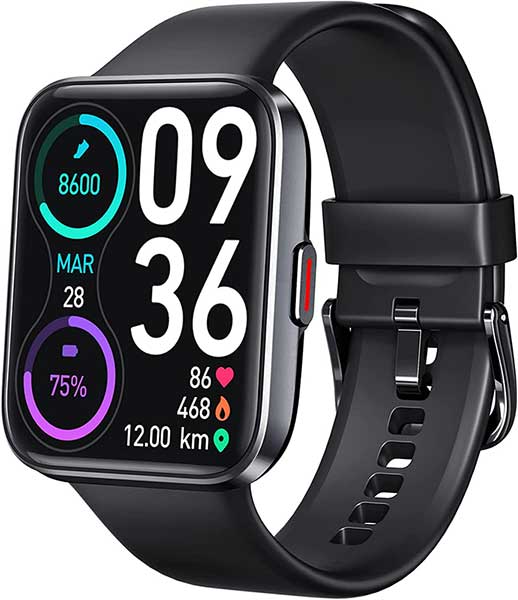 This smartwatch not only allows you to answer and make calls right from your wrist, it also gives you vibration alerts for notifications. For fitness buffs, it has a lot of fitness features baked in to help you keep track of your health goals. It has heart rate tracking, 60 sports modes to choose from, blood oxygen measurement, and it also tracks your sleep. This watch is also waterproof and has a long battery life with up to 21 days of standby time. Can an Apple Watch do that? Nope!
Price: $49.99
Where to buy: Amazon
Oral-B iO4 Electric Toothbrush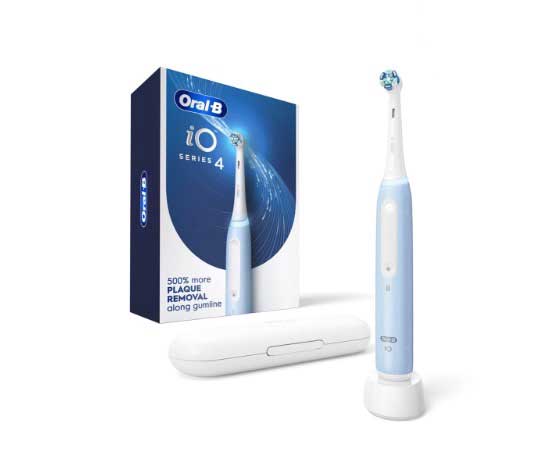 Can brushing your teeth ever be fun and enjoyable? If you're using an Oral-B iO Series 4 electric toothbrush, it makes oral hygiene as it can possibly be. This rechargeable electric toothbrush is #1 brand used by dentists and according to the Oral-B website, it's clinically proven to remove 500% more plaque along the gumline than using a manual toothbrush.  The iO4 features a round head for extra comfort, a pressure sensor that tells you exactly when you are pressing too hard so you won't damage your gums or teeth. It also lets you choose from 4 smart programs like whitening, daily cleaning, sensitive, and super sensitive. The toothbrush comes with 1 brush head, a charger, and a travel case to make it easier to keep up with your oral hygiene while you're traveling.
Price: $59.99
Where to buy: Oralb.com and Amazon
Whirlyboard balance board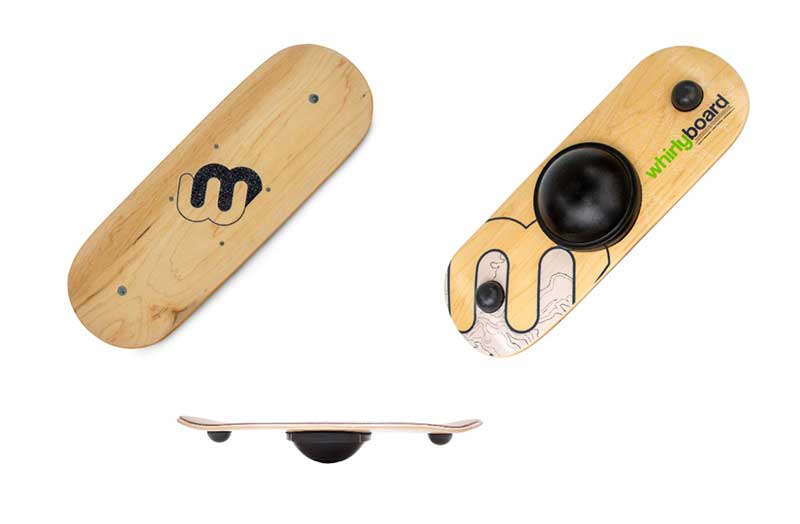 Having a good sense of balance is not only important for some sports, but it's important for daily life especially as we age. A balance board like the Whirlyboard is one of the best fitness products that you can use to avoid injuries, enhance your balance, and also boost your core. It's a great product you can use for workouts and while in front of a standing desk, but it can be just as good if you want to learn how to skateboard or snowboard. You can't just go jump a snowboard right away, and this type of product can help you learn the correct stance. The Whirlyboard can be used by people of all ages, it's incredibly easy to use and you will be amazed by the quality, versatility, and incredible attention to detail of these wood and cork boards.
Price: starts at $149.95
Where to buy: whirlyboard.com and Amazon
Stacked Skincare Ice roller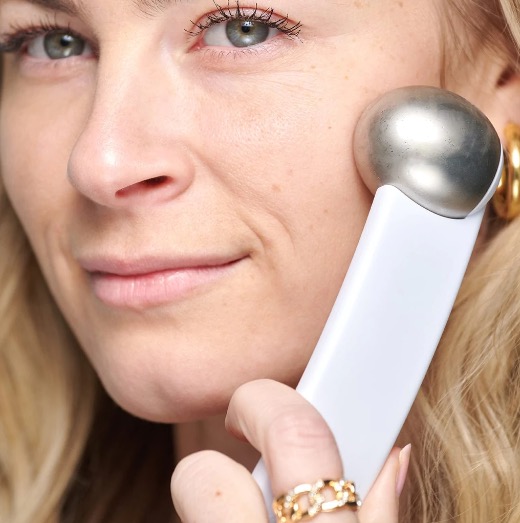 We all want to look our best and a cryotherapy device like the Stacked Skincare Ice Roller is designed to soothe sensitive skin, relieve puffiness under your eyes, improve circulation, and provide a relaxing massage right in the privacy and comfort of your home instead of going to the spa. The Ice Roller is also a tool that can be an aid against inflammation and the irritation and swelling of acne. This is a portable product that doesn't need batteries or charging and is one that you can take with you when you travel.
Price: $75.00 Save 15% off orders of $75+ by code: Gadgeteer15 on Stacked Skincare's site (exp. 12/19/22)
Where to buy: Stacked Skincare and Amazon
Spice of Life Tranquility Sound Machine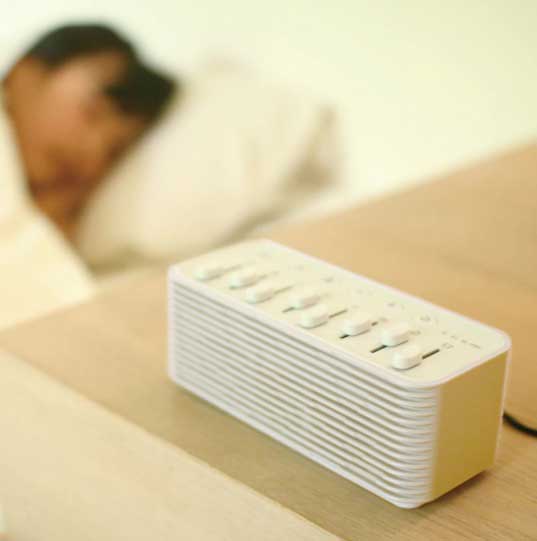 If you're stressed out, then it can be very hard to go to sleep. The same thing can be said if you feel unhappy or sad. This is where the Tranquility Sound Machine from Spice of Life can help. This product lets you choose from 8 different sounds (cafe noise, wind, crackling fire, rain, thunder, waves, birds, and outdoors), and you can even mix 2 sounds or more together in order to stimulate your brain. It not only can help ease you into sleep, but with the right mix, it can help you boost your concentration for study or work. A built-in timer can be set to automatically turn off in 30, 60, or 90 minutes. The Tranquility Sound Machine can even do double duty as a Bluetooth speaker too.
Price: $84.00
Where to buy: Spice of Life and Amazon
WeGym Rally X3 Pro smart resistance bands
The WeGym Rally X3 Pro smart resistance bands are designed to give you a complete home gym in a compact package that can go anywhere you go. These aren't your standard resistance bands. These bands are smart because they have sensors built into the ends of the bands and a touch display that shows you in real-time how much effort and weight you're pulling or pushing with each rep. Use it all alone or pair the Rally X3 Pro with the mobile app to follow along with a variety of video workouts that actually know when you're slacking and tell you to speed up.
Price: $249.99
Where to buy: WeGym and you can find their less expensive sets on Amazon