The thriving business of health and fitness | Business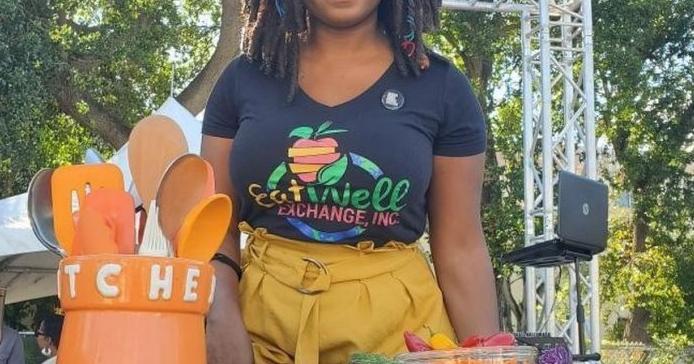 Business owners Ashley Carter and Jasmine Westbrooks bring something valuable to the table – good food.
The entrepreneurial duo's EatWell Exchange is one of many businesses responding to the Surfside disaster with a food distribution effort for first responders but one of few to also serve Black communities through its mission, landing them recognition and grant funding from WW, formerly known as Weight Watchers.
Nearly five years ago, the friends committed themselves to improving the quality of life for their families, friends and neighbors living in low-socioeconomic communities. At the time they worked for the Florida Department of Health's federally funded Women, Infants and Children (WIC) nutrition program as nutrition educators.
After seeing firsthand the jarring reality that access to food and nutrition education can affect the rate at which members of the Black community are diagnosed with chronic diseases, they created EatWell Exchange in 2017 and became its co-directors.
The nonprofit seeks to promote healthy living through nutrition education, combating food insecurity and challenging misconceptions about cultural foods.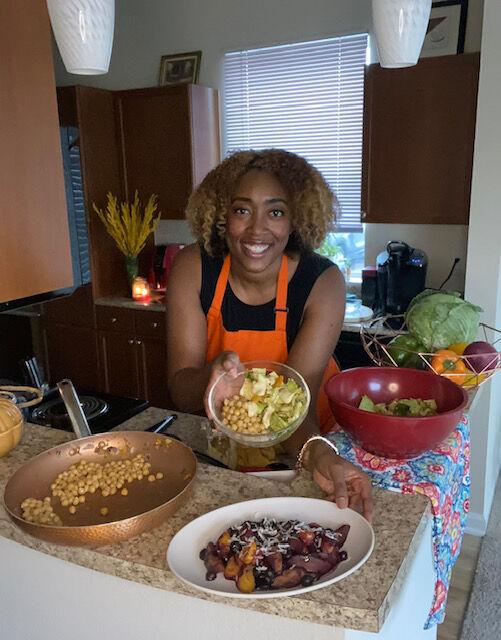 Using their background as registered dietitians, Carter and Westbrooks offer various programs that target each client's personal circumstance to make a smooth transition to a healthier lifestyle, starting with "eating clean."
Depending on a client's individual goals, they can participate in the Grow Your Own and EatWell program, which teaches participants how to create their own gardens to increase access to fresh produce; SuperHeroes That EatWell, a children's educational program on portion control, healthy eating and sugar intake; EatWell and Be Fit, incorporating exercise and nutrition to reach fitness goals; or Cook Your Way Fit, which promotes increasing vegetable and fruit consumption.
"There are many factors that affect why people don't eat healthy," said Westbrooks, who grew up in Memphis, Tenn. "I remember being at my grandma's house and the only thing available was a corner store to get food from."
Carter also grew up in a food desert, but in Liberty City, and knew that becoming a registered dietitian would be the best way to help her community. She watched both of her parents manage their Type 2 diabetes with lifestyle changes.
"When it comes to being Black dietitians, we're pretty rare. It's like we're unicorns," said Carter. "It's very hard to find one in your area for most people, and when you think about the health issues that we're facing in our community, a majority of people dealing with health issues related to diet are of African descent."
According to statistics released by the Commission on Dietetic Registration, less than 3% of registered dietitians in the U.S. are Black.
"Because there's such a shortage, being a dietitian was never a thing, it wasn't something I aspired to be," said Westbrooks, explaining that her culture favored professions in the legal or health care settings. "We are not exposed to dietitians so how could we aspire to be that to help out our community? It wasn't until I got into school and my mother's doctor recommended a dietitian to her because of a medical condition that I was exposed to this."
"I think it's interesting to think about the journey to be a dietitian and then to think of the percentage of Black dietitians and how that's correlated," said Carter, disclosing that years of schooling at one of three accredited institutions in Florida followed by a 10-month unpaid internship may discourage others interested in the profession.
"Sometimes, we're not taken seriously. When you look at health care, a lot of it is relying on medication when food can actually be used to treat medical conditions as well," said Westbrooks. "Because people don't realize that, we're looked at as the last thing on the totem pole of health professionals."
Recognizing that communities of color face unique challenges when it comes to access to wellness resources, WW made a commitment to bankroll the efforts of organizations and people already doing the work.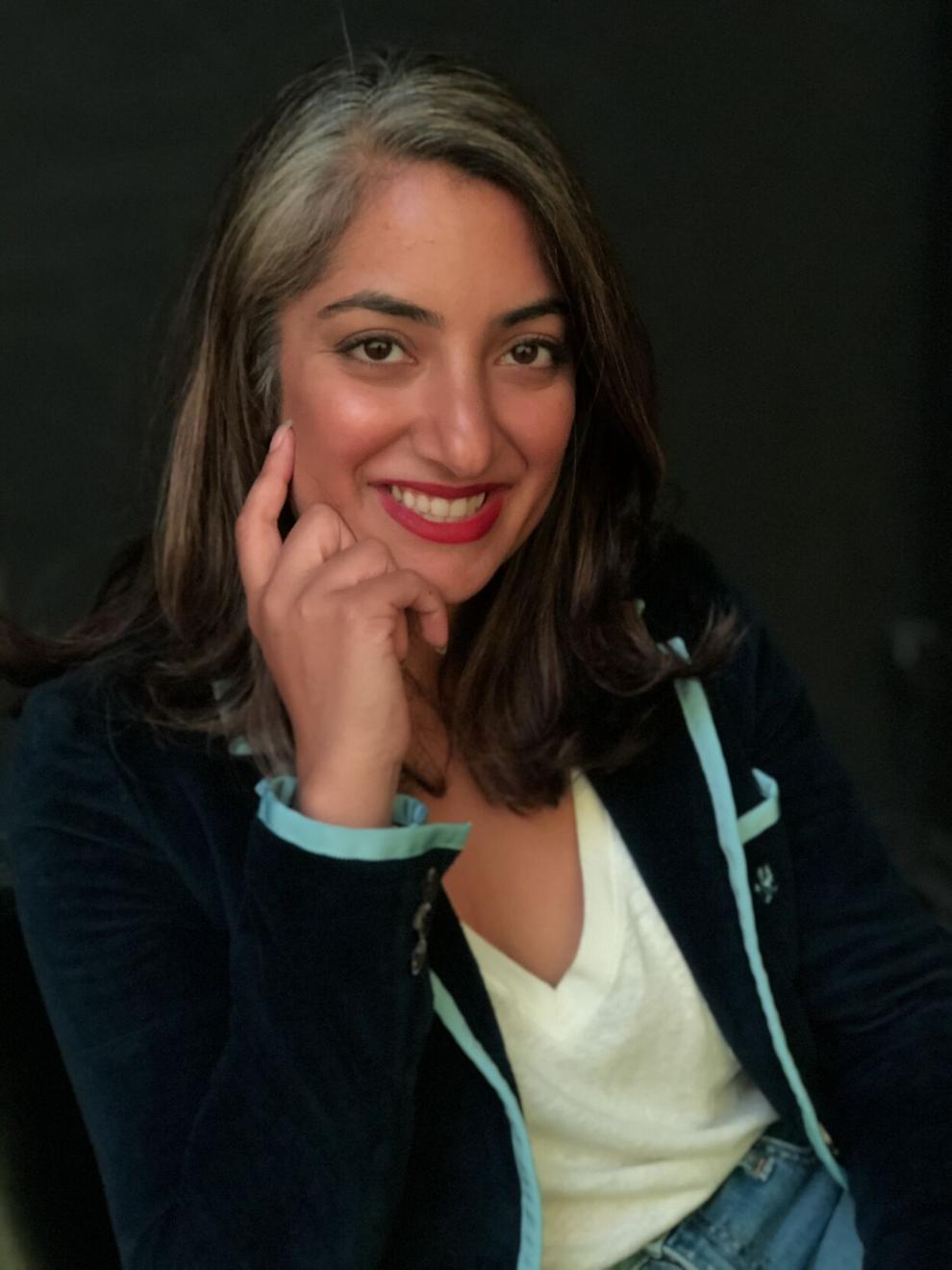 A $15,000 grant from WW's Wellness Impact Award, a globally distributed program that assists organizations working to resolve issues related to wellness, will support EatWell's goal to extend its reach in the community and make a greater impact.
"At WW, we've always thought about community and what it means to live well, and really saw this underscored during the pandemic," said Sona Jones, the company's vice president of community and impact. "We've designed this award to highlight issues that matter and haven't gotten a lot of visibility. This is about educating the population on what health equity looks like."
EatWell is one of 13 organizations across the world to receive the award in its first year, six of which are in North America. More than 400 organizations were nominated for the grant.
Through the unrestricted dollars, EatWell's co-directors plan to open a physical location where community members can easily tap into its resources in person; create more community gardens; start a community refrigerator system in Miami Gardens, similar to Sherina Jones' Village (Free)dge initiative in Liberty City; and plan more events across the country.
Not only will they receive financial support, but also additional resources geared toward uplifting minority businesses, such as promotion on all WW platforms, an opportunity to obtain additional funding monthly for a limited time and access to a network of professional business leaders for advice.
"We're grateful for the guidance WW is going to give us as first-generation business owners," said Carter. "There's a lot we don't know and we're looking forward to working with their professionals to find out how we can leverage our resources to be more impactful with what we're doing right now."
"For Jasmine and I, everything we put into EatWell was literally a sacrifice, we had to take from our own in order to build this," she added. "We didn't have the guidance that other people do when they already have businesses in their family or when their parents have money set aside for them. We make it work with what we have."
To Westbrooks, who works as a certified diabetes educator at Duke Primary Care in North Carolina, it's all worth it in the end.
"We see a little bit of ourselves in the people that we serve, even when there's days we're exhausted or overwhelmed," she said. "We pull our energy based on the impact that we know that we can make."
What makes EatWell stand out from other health-promoting businesses is its focus on culture.
"A lot of times, what's considered healthy food here is based on a westernized point of view. For example, things like broccoli and carrots are embraced more than things like jackfruit or collard greens," said Carter.
Instead of swapping out recipes in Caribbean households for traditional American cuisine, Carter and Westbrooks are simply motivating people to make healthier choices using food they are already familiar with.
"The reason why we focus on culture is because as registered dietitians, it's something that we weren't taught. We only learned about American food and dishes," said Carter. "If you don't learn what's healthy about your food, you will end up replacing it with other food you are told is better or it presents an even bigger barrier for healthy eating."
A team of volunteers, cultural experts, chefs and other dietitians with diverse backgrounds help inform EatWell of foods that are nutritionally beneficial among different cultures.
A push to encourage people to embrace their cultural dishes led the business to create a social media challenge in partnership with both local and international chefs to educate people.
The challenge has presented healthy recipes for Trinidadian, Nigerian, Jamaican, Haitian, South African, El Salvadorian, Tanzania and South Korean cuisines so far, reflecting both Miami's extremely diverse population and a goal to reach clients internationally.
"There's this false perception that a lot of Black people want to be unhealthy, that we want to eat certain foods and don't care about our health, and that's so far from the truth," Carter remarked. "Our people do want to be healthier and live longer, we just don't have the resources. That's why it's important to have representation even in healthy food."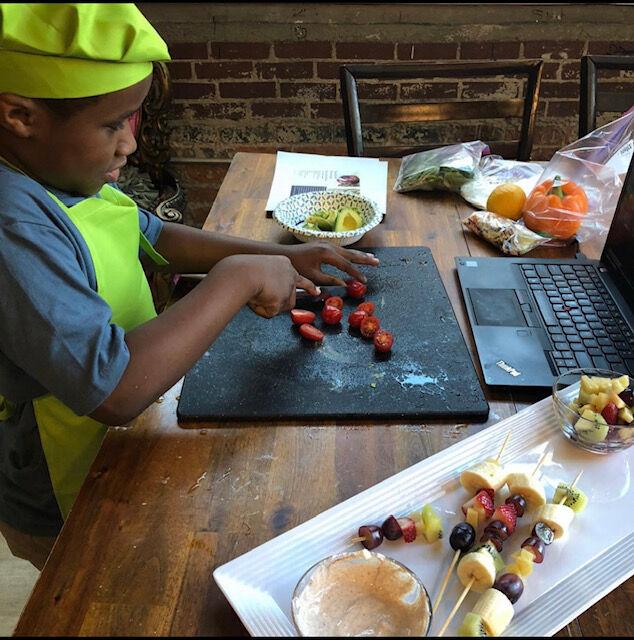 In the past, EatWell has consistently held a culinary program for youth, pop-up food demonstration events in the community to share recipes and cooking tips, an annual Cultural Chef Cook-Off fundraiser, educational segments on its social media platforms and a Garden to Table initiative.
The culinary program is a partnership between the organization, the Miami Police Athletic League and the City of Hallandale Beach. Between 150-200 children ages 5-18 have participated in the program.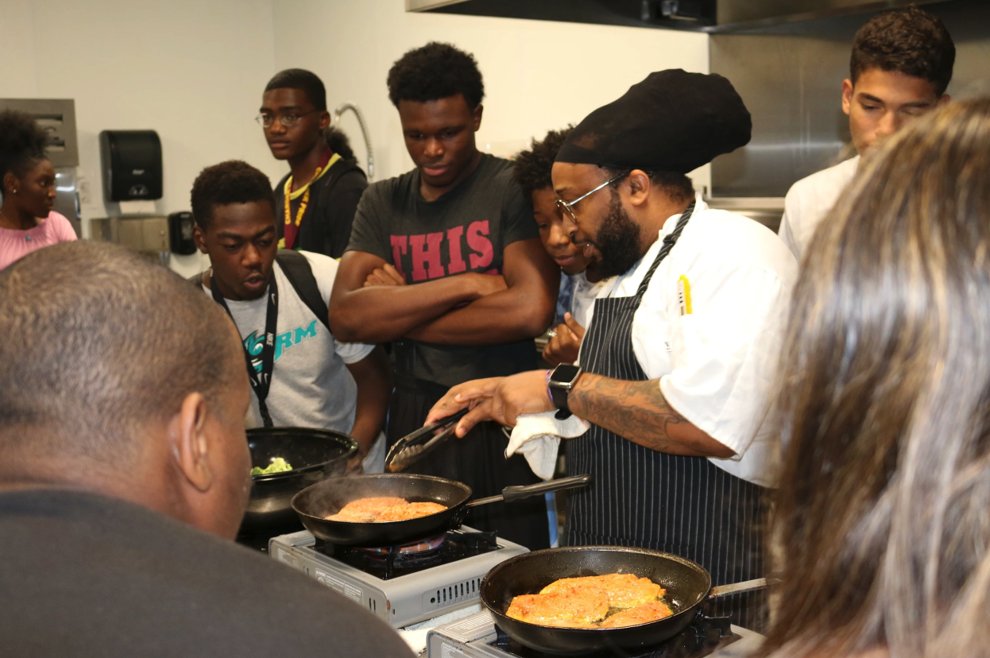 Youngsters would gather at a community center, normally after school or during the summer, to learn how to make certain meals from scratch with the help of Black chefs. One time, Carter taught them how to make vegan jackfruit tacos.
"These kids are typically taking care of themselves when they get home from practice or school, they fix themselves something to eat and usually their parents aren't there," said Carter. "By teaching them how to cook, they won't have to worry about eating Ramen noodles every night. That's the reality for some of the kids we're working with."
Since the pandemic, cooking sessions offered through the program have been on Zoom.
EatWell's Garden to Table initiative is based out of Sebring, Fla., where its community garden is located.
The National Association for the Advancement of Colored People in Highlands County and the National Coalition of 100 Black Women works with Westbrooks to bring children to the garden to learn about the produce that sprouts up every six months.
They collect the produce then cook it in a kitchen located inside a building adjacent to the garden.
"Sebring happened because of partnerships, but now with this grant funding, we feel like we're going to be more able to develop that in [other] cities," said Westbrooks. "That's something we would really like to see in different areas."
To develop healthy habits, the co-directors suggested that people start off small, create a reasonable goal to work toward and remain consistent.
"Choose changes that are sustainable so if you barely walk, you don't want to make it a goal to run a marathon," said Carter. "You can make a goal to walk 10 minutes, three time a week, and even though you're not going to see immediate results from that, it's about lifelong wellness."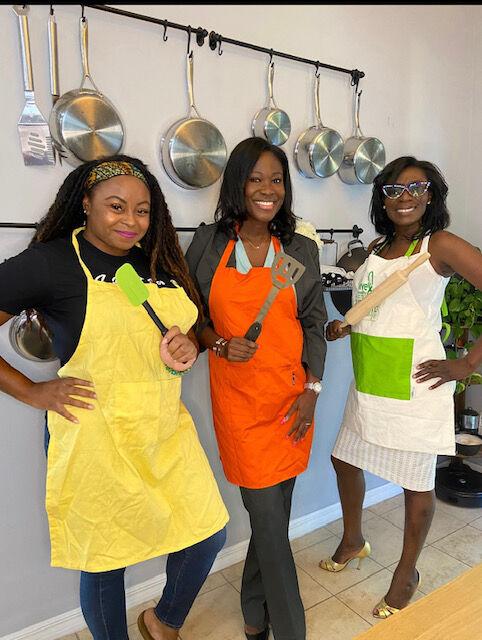 "Something that we teach in our classes is if all else fails, just look at your plate and think 'I need color,'" said Westbrooks. "The color is in the fruit and vegetables, the things we recommend that you eat and reflect the nutrients that our body needs."
Westbrooks and Carter are currently working with Miami Gardens Councilwoman Linda Julien and District 102 Rep. Felicia Robinson to discuss policy that can also make a dent in health disparities as far as bringing more grocery stores and other resources into Black communities, in addition to the wellness approach their business offers.
"That way we can create places for sustainable change where people won't need EatWell to physically be here forever," said Carter. "We want the community itself to become EatWell in being able to make those changes instead of relying on an outside source like Ashley and Jasmine."